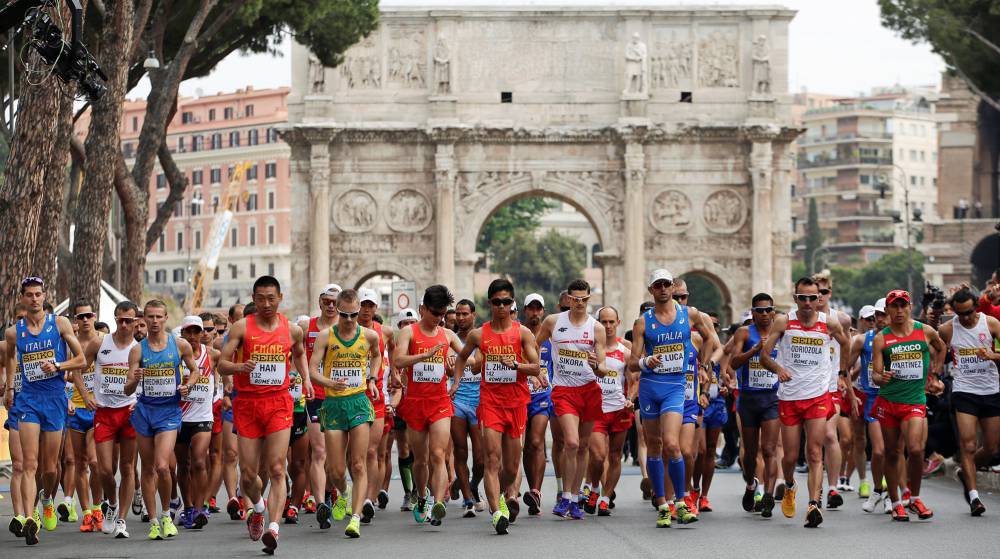 To my dear friend, Mr. Ruben Aguilera of Argentina (a journalist, racewalking judge and also
racewalking organizer, like me.)
I join you, Ruben, in saying congratulations to all the walkers from the Americas (such nations as Mexico, Ecuador, Canada, Colombia, Brazil and Bolivia, etc) who did so well in last weekend's IAAF World Racewalking Team Championships held in Roma, Italy.
The Americas now play a dominant role in world racewalking and it is a very good thing to see this
happen!! These racewalkers in many cases now represent their nations' greatest hopes for
major honors at August's Olympic Games in Rio DeJaneiro !! Congratulations, as well, to
all the great people of the Americas who have worked so hard and with such great dedication over
many years to make all this happen !!!
Congratulations once again to all,
Elliott Denman
West Long Branch, New Jersey
USA O7764.
Phone 732-222-9213.Elliottden
This e-mail address is being protected from spambots. You need JavaScript enabled to view it
(please scroll up.)
En nombre de la Comisión Panamericana de Marcha Atlética de la Asociación Panamericana de Atletismo (APA) les hago llegar un archivo adjunto con el informe estadístico de la participación de los atletas de las Américas en el Campeonato Mundial por equipos de marcha Atlética que se llevó a cabo éste fin de semana en Roma.
Mucho nos complace felicitar a las Federaciones Nacionales que presentaron atletas en las distintas competencias y que alcanzaron resultados técnicos excepcionales.
Una felicitación que hacemos extensiva a los entrenadores y atletas quienes con su dura labor diaria lograron alcanzar el nivel técnico necesario para sobresalir en tan importante competición.
Una gran labor individual y de conjunto que augura un futuro muy venturoso para esta disciplina, de manera especial por cuanto los resultados no sólo fueron excelentes entre la elite, sino que también en los juniors que es donde se está gestando el devenir de nuestro deporte.
Treinta y cuatro (34) atletas lograron revalidad u obtener el índice habilitante que solicita la IAAF para los Juegos Olímpicos de Río de Janeiro. Veinte (20) atletas hicieron lo propio con el solicitado para el Campeonato Mundial Junior a efectuase en Bydgoszcz.
La Comisión Panamericana de Marcha y la Asociación Panamericana de Atletismo se sienten orgullosos de esta gran actuación.

Rubén Aguilera
Presidente de la
Comisión Panamericana de Marcha Atlética